Cardiomyocyte Extracellular Vesicles Repair Heart Damage in Model
By BiotechDaily International staff writers
Posted on 02 May 2018
Studies conducted with a rat myocardial infarction model demonstrated the benefits of treating damaged heart muscle with extracellular vesicles (EVs) secreted by cardiomyocytes.
The ability of EVs to regulate a broad range of cellular processes has recently been exploited for the treatment of diseases. For example, EVs secreted by therapeutic cells injected into infarcted hearts can induce recovery through the delivery of cell-specific microRNAs. However, retention of the EVs and the therapeutic effects are short-lived.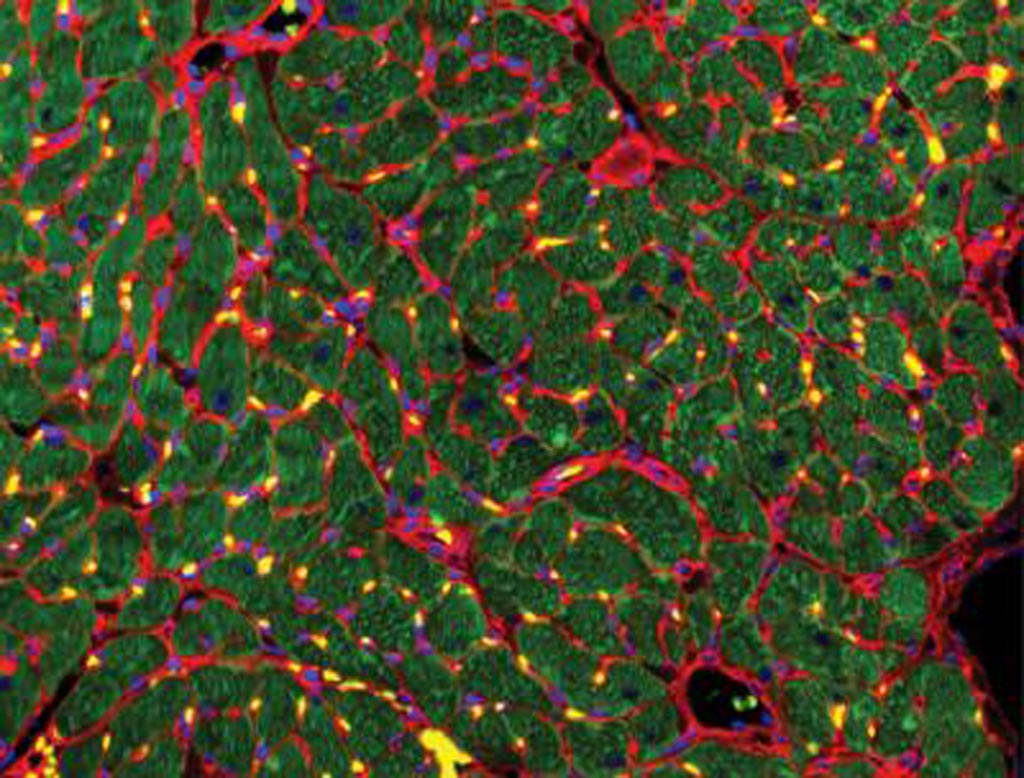 MicroRNAs (miRNAs) and short interfering RNAs (siRNA) comprise a class of about 20 nucleotides-long RNA fragments that block gene expression by attaching to molecules of messenger RNA in a fashion that prevents them from transmitting the protein synthesizing instructions they had received from the DNA. With their capacity to fine-tune protein expression via sequence-specific interactions, miRNAs help regulate cell maintenance and differentiation.
In order to increase the efficacy of EV treatment, investigators at Columbia University School of Engineering and Applied Science (New York, NY, USA) developed a hydrogel patch capable of slowly releasing EVs after being implanted onto the injured heart in rat models of myocardial infarction. The EVs were isolated after being secreted from cardiomyocytes (CMs) derived from induced pluripotent stem cells.
The investigators reported in the April 23, 2018, online edition of the journal Nature Biomedical Engineering that EV treatment reduced arrhythmic burden, promoted ejection-fraction recovery, decreased CM apoptosis 24 hours after infarction, and reduced infarct size and cell hypertrophy four weeks post-infarction when implanted onto infarcted rat hearts. They also showed that EVs were enriched with cardiac-specific microRNAs known to modulate CM-specific processes.
"We were really excited to find that not only did the hearts treated with cardiomyocyte extracellular vesicles experience much fewer arrhythmias, but they also recovered cardiac function most effectively and most completely," said senior author Dr. Gordana Vunjak-Novakovic, professor of biomedical engineering at Columbia University School of Engineering and Applied Science. "In fact, by four weeks after treatment, the hearts treated with extracellular vesicles had similar cardiac function as those that were never injured."
"Once we better understand how exactly the extracellular vesicles do what they do," said Dr. Vunjak-Novakovic, "we should be able to extend their use to a range of cardiovascular diseases, and significantly advance the field of cell-free heart therapy."
Related Links:
Columbia University School of Engineering and Applied Science
Other channels