New Digital Microscope Boasts Augmented Software
By BiotechDaily International staff writers
Posted on 08 Jun 2017
A new automated digital quantitative multi-mode microscope has been released for use by biotech and other life science researchers.
The BioTek Instruments (Winooski, VT; USA) Cytation 1 cell imaging multi-mode reader has been cited as an affordable entry into automated digital quantitative microscopy along with multi-mode microplate detection.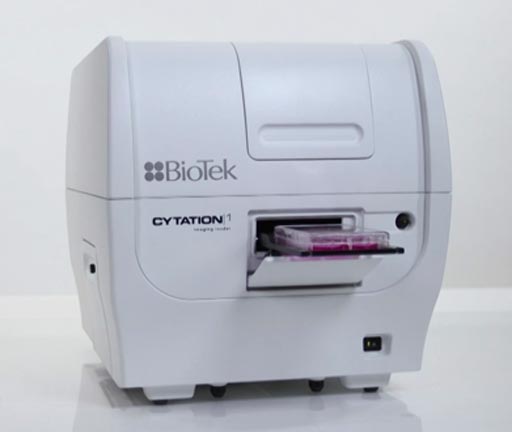 This unique, patented design provides quantitative phenotypic cellular information along with well-based quantitative data. Cytation 1's multi-mode detection module includes high sensitivity filter-based fluorescence and a monochromator system for UV-Visible absorbance. Temperature control and shaking are standard; CO2/O2 control and reagent injectors are available as accessories.
The digital microscopy mode includes fluorescence and high contrast brightfield channels for visualization from 1.25 times to 60 times without the expense and complexity commonly associated with other digital microscopy systems. Furthermore, automated XY stage, focus, and LED intensity facilitate imaging throughput, especially during cell-based applications such as three-dimensional spheroid imaging. The multi-mode detection module includes sensitive filter-based fluorescence and luminescence along with monochromator-based UV-Visible absorbance for flexibility in a wide range of endpoint, kinetic, inject/read, and other assay types.
BioTek's powerful Gen5 software makes image capture and plate reading easy. The latest Gen5 3.03 software offers new functionality for imaging and microplate reading, including spot counting for cellular image analysis and a fluorophore spectra utility for convenience during fluorescence detection protocol definition, and many others.
Cytation 1 can be integrated with BioTek's BioStack microplate stacker or BioSpa 8 automated incubator to automate throughput and long-term live cell kinetic imaging. The instrument is compatible with a variety of sample vessels, including microplates, slides, cell culture dishes and flasks, hemocytometers, and the Take3 micro-volume plate.
Other channels