Paper-Based Battery Powers Microfluidic Devices
By BiotechDaily International staff writers
Posted on 22 Mar 2017
A team of biomedical engineers has developed a novel type of "hydraulic battery" that uses inexpensive, minute paper pumps to power the movement of liquids, including biological fluids, through portable microfluidic diagnostic or analytical devices.
Simple fluid pumps have been developed to improve microfluidic device portability, but they could not be easily programmed, produce repeatable pumping performance, or generate complex flow profiles, which are key requirements for increasing the functionality of portable microfluidic devices.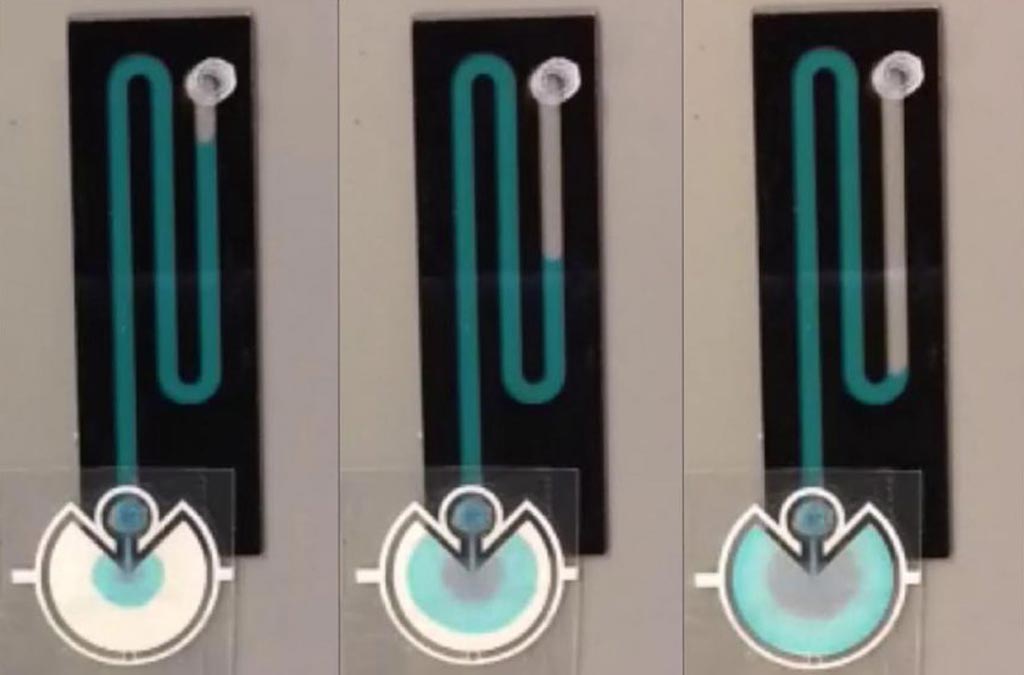 A novel, improved type of fluid pump was recently described by investigators at North Carolina State University and the University of North Carolina. This detachable, paper-based hydraulic battery could be connected to the outlet of a microfluidic channel to pump fluid at varying flow rates over time, including step changes, ramping flows, and oscillating flows.
"Our system uses pieces of paper that are 125 microns thick, little more than the width of a single hair," said senior author Dr. Glenn Walker, associate professor in the joint biomedical engineering program at North Carolina State University and the University of North Carolina. "Capillary action pulls a liquid into the paper, and by changing the shape of the paper, we are able to control how much liquid is pulled through an attached device - and how quickly that happens. By stacking the paper we are able to create more complex flow profiles, depending on the needs for any given application, and any one of these hydraulic battery pumps costs less than a dime. Our hydraulic battery is small, lightweight, very inexpensive, easy to connect to a device, and disposable. In addition, our paper pumps could be saved for later evaluation, such as to run secondary, lab-based tests to confirm on-site diagnoses."
The investigators have filed a patent application to protect the paper pump technology and are currently seeking partners in industry to aid in commercial development.
The hydraulic battery was described in the February 24, 2017, online edition of the journal Technology.
Latest Lab Technologies News
Other channels