New Series of Sequencing Instruments to Lower Analysis Costs
By BiotechDaily International staff writers
Posted on 25 Jan 2017
A new line of next-generation sequencing instruments was designed to bring this technology into a price range that will allow laboratories to completing human whole-genome sequencing projects at a cost today of about 1,000 USD per genome with the intent to lower this cost eventually to around 100 USD per genome.
The new Illumina Incorporated NovaSeq Series includes the NovaSeq 5000 and 6000 Systems. These instruments were designed to allow a broad set of researchers to access next-generation sequencing technology and more easily conduct large-scale genomics projects with greater sample volumes. As such, these instruments perform high-throughput sequencing with exceptional throughput, ease of use, low per sample costs, and flexibility.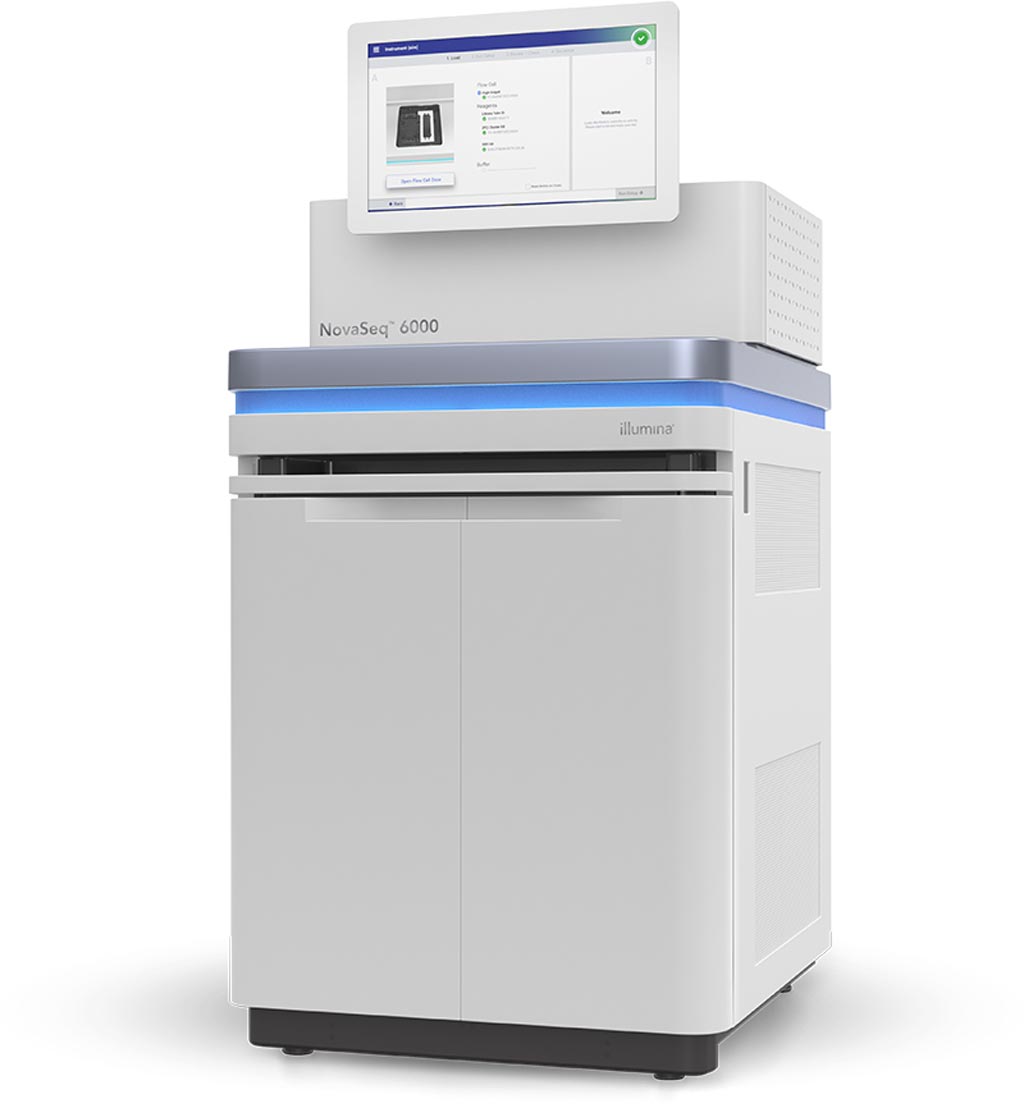 The NovaSeq Series provides remarkable scalability and flexibility to accommodate diverse applications and project sizes, while achieving maximum operational efficiency. These instruments offer ease of use features similar to those found in Illumina's desktop sequencing portfolio, including automated onboard cluster generation, cartridge-based reagents, and streamlined workflows. Users can run one or two flow cells at a time and choose between four flow cell types, easily adjusting output for every sequencing run. With highly tunable data output, the user can run virtually any genome, sequencing method, and scale of project. The NovaSeq Series is compatible with a broad range of Illumina library preparation kits, from transcriptome sequencing to whole-genome sequencing. High-quality, high-coverage sequencing offers a comprehensive view of the genome to detect variants accurately, characterize isoforms, and more.
"The introduction of NovaSeq marks one of the most important inflection points of innovation in Illumina's history. In the same way that HiSeq X enabled the $1,000 genome with the HiSeq architecture first announced in 2010, we believe that future systems derived from the NovaSeq architecture we are launching today one day will enable the $100 genome and propel discoveries that will enable a deeper understanding and better treatments for complex disease," said Francis deSouza, president and CEO of Illumina. "The NovaSeq Systems enable the study of genetic links between health and disease at an unprecedented scale by making it possible to sequence more samples at greater depth and take on projects that would otherwise be cost-prohibitive. By accelerating the trajectory of genomics with these systems, Illumina is making it possible to envision a future in which all people can benefit from precision medicine."
Illumina announced that NovaSeq 6000 (priced at about 985,000 USD) will begin shipping in March 2017 and NovaSeq 5000 (priced at about 850,000 USD) will begin shipping mid-2017. These instruments are for research use only and have not been certified for use in diagnostic procedures.
Latest Lab Technologies News
Other channels