Environmental Influences Important in Determining Microbiome Composition
By BiotechDaily International staff writers
Posted on 13 Mar 2018
The contribution of an individual's genetic heritage is much less important than environmental factors in determining the makeup of his or her personal microbiome.
Many studies have indicated that the microbiome affects nearly every aspect of health; and its microbial composition, which varies from individual to individual, may influence areas ranging from weight gain to moods. Human gut microbiome composition is shaped by multiple factors but the relative contribution of host genetics has not been determined.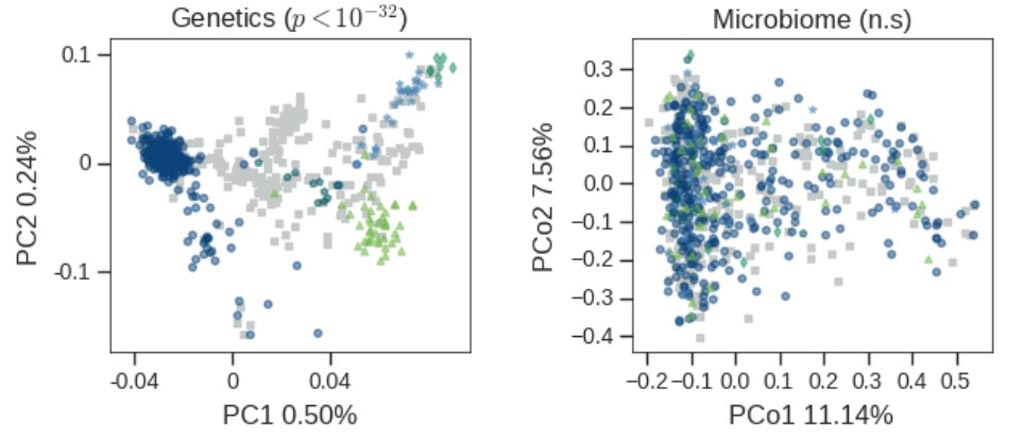 In a study published in the February 28, 2018, online edition of the journal Nature, investigators at the Weizmann Institute of Science (Rehovot, Israel) examined genotype and microbiome data from 1,046 healthy individuals with several distinct ancestral origins who shared a relatively common environment. In addition to genetic data and microbiome composition, the investigators collected information for each study participant that included dietary habits, lifestyle, medications, and additional measurements.
Results obtained during the study demonstrated that the gut microbiome was not significantly associated with genetic ancestry, and that host genetics had a minor role in determining microbiome composition. In contrast, there were significant similarities in the compositions of the microbiomes of genetically unrelated individuals who shared a household, and that over 20% of the inter-person microbiome variability was associated with factors related to diet, drugs, and internal and external body measurements.
In addition, the investigators demonstrated that microbiome data significantly improved the prediction accuracy for many human traits, such as glucose and obesity measurements, compared to models that used only host genetic and environmental data.
Senior author Dr. Eran Segal, professor of computer science and applied mathematics at the Weizmann Institute of Science, said, "We cannot change our genes, but we now know that we can affect - and even reshape - the composition of the different kinds of bacteria we host in our bodies. So the findings of our research are quite hopeful; they suggest that our microbiome could be a powerful means for improving our health."
Related Links:
Weizmann Institute of Science

Other channels