Soft Hydrogel Structures Developed for Organ Regeneration Studies
By BiotechDaily International staff writers
Posted on 25 Jan 2018
A team of British bioengineers has developed a novel cryogenics-based three-dimensional printing technique for producing soft biological structures that mimic the mechanical properties of organs such as the brain and lungs.
The technique, which was described in the November 24, 2017, online edition of the journal Scientific Reports, used dry ice in an isopropanol bath to rapidly cool a hydrogel ink as it was extruded from a three-dimensional printer. The ink was a composite hydrogel of poly(vinyl) alcohol (PVA) and Phytagel (a water-soluble anionic polysaccharide produced by the bacterium Sphingomonas elodea). After being thawed, the gel that had been formed was as soft as body tissues, but did not collapse under its own weight, which had been a problem plaguing similar techniques in the past.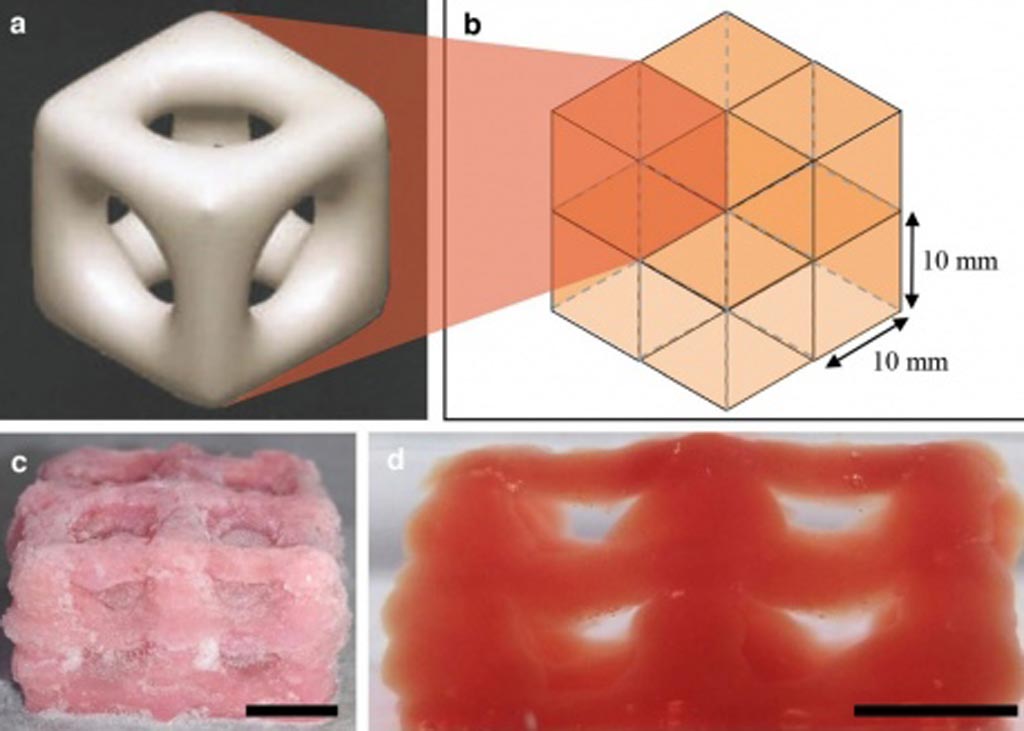 Having created the super soft hydrogel, the investigators at Imperial College London (United Kingdom) sought to: (i) provide mechanical evidence showing the three-dimensional printed material mimicked real brain tissue, providing the same response as the casted material, through unconfined compression tests, (ii) demonstrate the capabilities of this printing technique by achieving hollow three-dimensional printed structures, whose continuity through the layers had also been assessed using scanning electron microscopy (SEM) analysis, and (iii) evaluate the viability of cells in direct contact with the printed material.
The method was validated by showing that the three-dimensional printed materials were well matched to the cast-molded equivalents in terms of mechanical properties and microstructure. A preliminary biological evaluation on the three-dimensional printed material, coated with collagen type I, poly-L-lysine, and gelatin, was performed by seeding human dermal fibroblasts. Cells showed good attachment and viability on the collagen-coated three-dimensional printed hydrogel.
Senior author Dr. Antonio Elia Forte, a researcher in the department of bioengineering at Imperial College London, said, "Cryogenics is the novel aspect of this technology - it uses the phase change between liquid and solid to trigger polymerization and create super soft objects that can hold their shape. This means that the technology has a wide variety of possible uses."
Related Links:
Imperial College London

Other channels