Mechanism Identified Protects Cells from Virulence Factors
By BiotechDaily International staff writers
Posted on 10 Oct 2017
A team of molecular microbiologists has identified the mechanism that allows some cells to survive invasion by pathogenic bacteria such as species of Yersinia, which cause a range of illness from plague to gastrointestinal disease in humans.
Many pathogens deliver virulence factors or effectors into host cells in order to evade host defenses and establish infection. In the case of Yersinia, this is the protein YopJ, an acetyltransferase that binds to a conserved alpha-helix of MAPK kinases. Although such effector proteins disrupt critical cellular signaling pathways, they also trigger specific anti-pathogen responses, a process termed "effector-triggered immunity."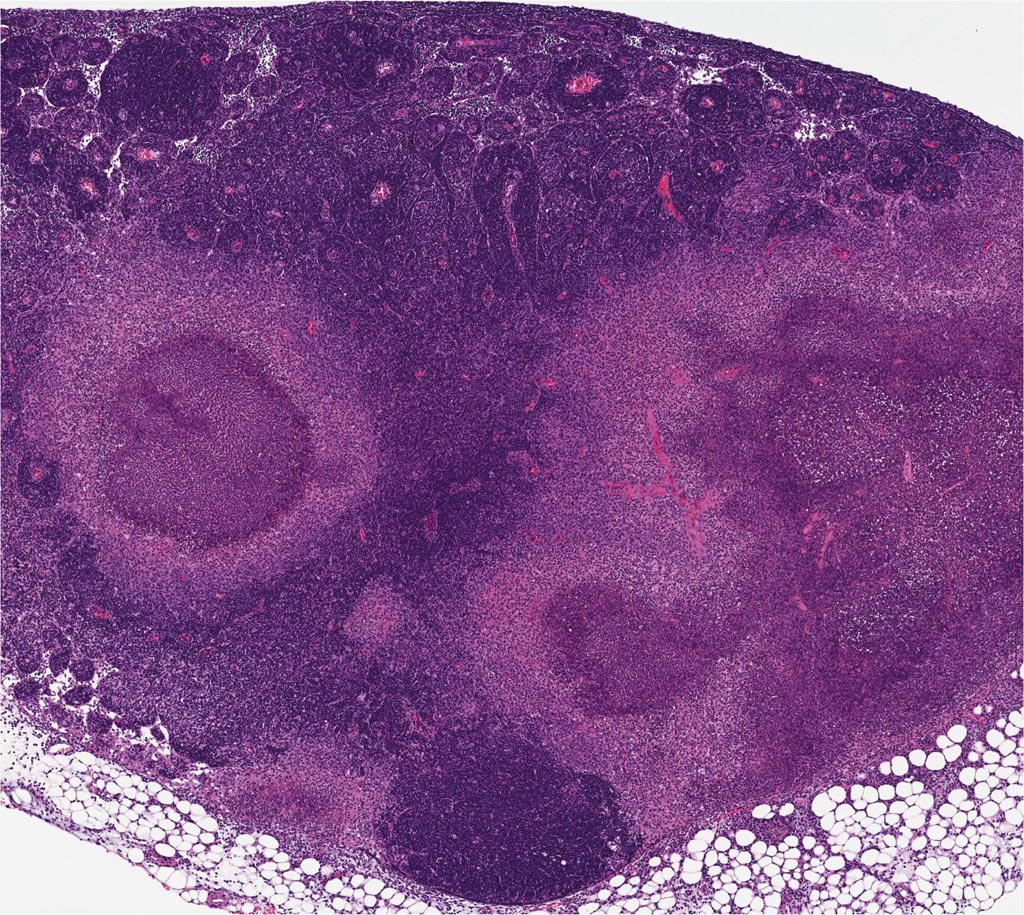 Yersinia inactivates critical proteins of the NF-kappaB and MAPK signaling cascade, thereby blocking inflammatory cytokine production but also inducing apoptosis. Yersinia-induced apoptosis requires the kinase activity of receptor-interacting protein kinase 1 (RIPK1), a key regulator of cell death, NF-kappaB, and MAPK signaling.
Investigators at the University of Pennsylvania (Philadelphia, USA) reported in the August 30, 2017, online edition of the Journal of Experimental Medicine that Yersinia-induced apoptosis was critical for host survival, containment of bacteria in granulomas, and control of bacterial burdens in vivo. They demonstrated that this apoptotic response provided a cell-extrinsic signal that promoted optimal innate immune cytokine production and antibacterial defense, demonstrating a novel role for RIPK1 kinase–induced apoptosis in mediating effector-triggered immunity to circumvent pathogen inhibition of immune signaling.
Working with a line of mice that carried a mutated, inactive form of RIPK1, the investigators showed that when these mice were infected with Yersinia, their cells did not undergo apoptosis. Instead, these animals became extremely sensitive to infection, succumbing to an infection that normal mice almost always survived. Bacteria could be found dispersed throughout the body, whereas in normal mice Yersinia was typically confined to the lymph nodes, spleen, and liver.
"RIPK1 sits at a key decision point for the cell," said senior author Dr. Igor E. Brodsky, assistant professor in of pathobiology at the University of Pennsylvania. "Depending on the stimuli the cells see, this protein can transduce a signal to activate gene expression, programmed cell death, or apoptosis, or it can activate another form of cell death called programmed necrosis. In the context of an infection, the cells that are dying are talking to the other cells that are not infected. I do not think of it as altruistic, exactly, but it is a way for the cells that cannot respond any longer to still alert their neighbors that a pathogen is present."
Related Links:
University of Pennsylvania

Other channels