Genetically Encoded Sensors Determine Intracellular GTP Levels
By BiotechDaily International staff writers
Posted on 28 Sep 2017
A new class of genetically encoded sensors is able to rapidly detect changes in GTP (guanosine-5'-triphosphate) levels in living cells.
Although GTP plays an essential role in multiple cellular processes, including protein synthesis, cytoskeleton maintenance and function, nuclear and intracellular transport, and intracellular signaling tools for quantitative evaluation of GTP levels in live cells have not been available.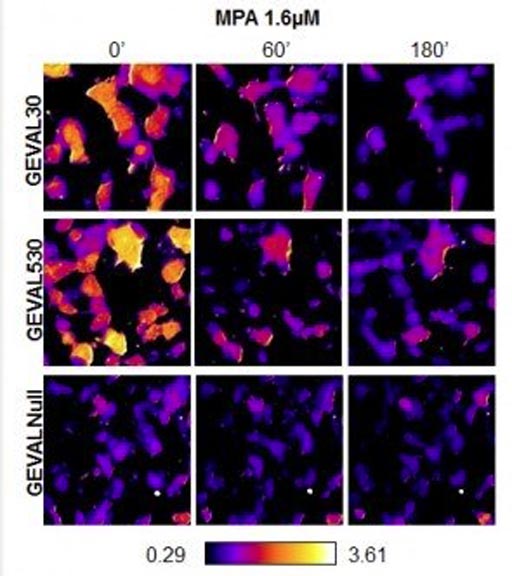 To fill this gap, investigators at the Roswell Park Cancer Institute (Buffalo, NY, USA) developed and characterized genetically encoded GTP sensors, which they constructed by inserting a circularly permuted yellow fluorescent protein (cpYFP) into a region of the bacterial G protein, FeoB. FeOB is a ferrous iron uptake system, which belongs to the Ferrous Iron Uptake (FeoB) transporter family that undergoes a GTP-driven conformational change.
The investigators reported in the September 4, 2017, online edition of the journal Nature Methods that GTP binding to these sensors resulted in a ratiometric change in their fluorescence, thereby providing an internally normalized response to changes in GTP levels while minimally perturbing those levels. Mutations introduced into FeoB to alter its affinity for GTP created a series of sensors with a wide dynamic range. In mammalian cells the sensors showed consistent changes in ratiometric signal upon depletion or restoration of GTP pools.
The investigators stated that their results showed that these GTP evaluators (GEVALs) were suitable for detection of spatiotemporal changes in GTP levels in living cells and for high-throughput screening of molecules that modulate GTP levels.
"Our sensors represent a new and unique tool for assessing changes in GTP levels in cell populations and individual cells, which may in turn point the way to effective strategies for suppressing or even preventing tumor growth," said senior author Dr. Mikhail Nikiforov, professor of oncology in the department of cell stress biology at Roswell Park Cancer Institute. "This is an early finding that will have to be further developed through additional research, but it suggests opportunities for developing therapies that interfere with GTP metabolism by targeting key enzymes - perhaps existing therapies as well as new drugs yet to be developed."
Related Links:
Roswell Park Cancer Institute

Other channels