Study Shows Cells Maintain Active Gene Expression during Mitosis
By BiotechDaily International staff writers
Posted on 27 Sep 2017
A team of cell biologists has found that contrary to commonly held theory, gene expression continues during the process of cell division (mitosis).
Although the genome is generally thought to be transcriptionally silent during mitosis, technical limitations have up to now prevented sensitive mapping of transcription during mitosis and subsequent mitotic exit. To study this period of the cellular life cycle, investigators at the University of Pennsylvania (Philadelphia, USA) used 5-ethynyluridine to pulse-label transcripts generated by a human liver cell line during mitosis and mitotic exit. Gene activity was followed using advanced analytical techniques such as FITC-UTP (fluorescein isothiocyanate - uridine triphosphate) labeling, RNA FISH (fluorescence in situ hybridization), and RT-qPCR (real-time polymerase chain reaction).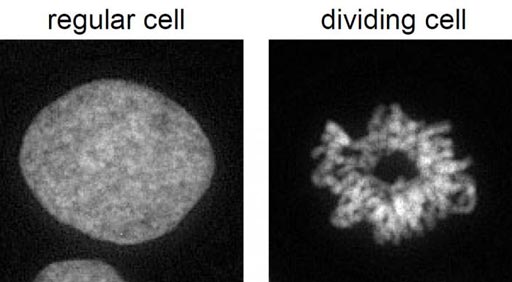 The investigators reported in the September 14, 2017, online edition of the journal Science that many genes exhibited transcription during mitosis, as confirmed by the analytical procedures. The first round of transcription immediately following mitosis primarily activated genes involved in the growth and rebuilding of daughter cells, rather than cell type-specific functions. These results implied that the cell's transcription pattern was largely retained at a low level through mitosis, whereas the amplitude of transcription observed in interphase was re-established during mitotic exit.
"We looked at this question from the point of view of answering what controls cell identity and how can we harness that for cell reprogramming - for instance, to stop cancerous replication or engineer a cell to steer the direction of its "personality," so to speak," said senior author Dr. Kenneth S. Zaret, professor of cell and developmental biology at the University of Pennsylvania. "The set of genes a cell expresses determines if it is a skin cell, nerve cell, or a heart muscle cell, among the 200 or so different cell types found in the human body."
"The most amazing thing about this study is that in the end, we had to throw what we thought we knew about this basic aspect of gene regulation out the window," said Dr. Zaret. "The findings indicate that we need to think about how promoters, rather than enhancers, are regulated during cell division. This refocusing will tell us how a cell's identity, as defined by the genes it expresses, is retained through cell division. We hope it will improve our ability to deliberately change a cell's identity to create new cells and tissues for therapeutics and research."
Related Links:
University of Pennsylvania

Other channels