Novel Vaccine Could Simultaneously Target Multiple Viral Infections
By BiotechDaily International staff writers
Posted on 26 Sep 2017
A novel vaccine designed to prevent infection by several different viruses simultaneously in based on ability of a receptor protein on the surface of immune cells to recognize a common, invariable viral antigen.
Killer-cell immunoglobulin-like receptors (KIRs), are a family of type I transmembrane glycoproteins expressed on the plasma membrane of natural killer (NK) cells and a minority of T-cells. These receptors regulate the killing function of these cells by interacting with major histocompatibility (MHC) class I molecules, which are expressed on all nucleated cell types. KIR receptors can distinguish between major histocompatibility (MHC) class I allelic variants, which allows them to detect virally infected cells or transformed cells. Most KIRs are inhibitory, suppressing the cytotoxic activity of their NK cell. Only a limited number of KIRs are activating, meaning that their recognition of MHC molecules activates the cytotoxic activity of their cell. As a result of KIR's role in killing unhealthy self-cells and not killing healthy self-cells, KIRs are involved in protection against and propensity to viral infection, autoimmune disease, and cancer.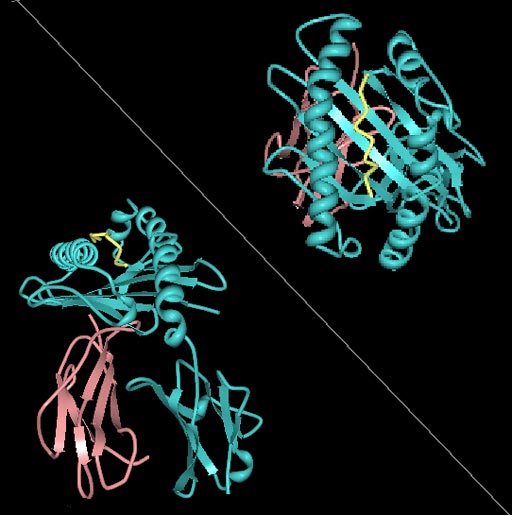 Investigators at the University of Southampton (United Kingdom) worked with the killer cell immunoglobulin-like receptor KIR2DS2. They singled out this important receptor protein for further study after analyzing DNA from more than 300 patients exposed to the hepatitis C virus and finding that the KIR2DS2 receptor was associated with successfully clearing the virus. In addition, they showed that KIR2DS2 directly recognized viral peptides derived from conserved regions of the NS3 helicase enzyme from the flaviviral superfamily (hepatitis C virus, Zika virus, dengue virus, yellow fever virus, Japanese encephalitis virus, etc.) in the context of major histocompatibility complex class I.
The investigators reported in the September 15, 2017, online edition of the journal Science Immunology that the peptide LNPSVAATL from the hepatitis C virus (HCV) helicase bound the human leukocyte antigen (HLA) allele HLA-C*0102, leading to NK cell activation through engagement of KIR2DS2. However, while this region was highly conserved across HCV isolates, the sequence was not present in other flaviviral helicases. They then identified a distinct peptide, MCHAT, which was sensed by KIR2DS2 and was conserved in a number of flaviviruses including dengue, Zika, and yellow fever viruses.
Senior author Dr. Salim Khakoo, professor of hepatology at the University of Southampton, said, "The NS3 helicase protein could be the key in unlocking the defense of lethal viruses that affect so many people around the world. It is very exciting to discover that other viruses similar to hepatitis C, such as Zika virus, dengue virus, yellow fever virus, Japanese encephalitis virus and in fact all flaviviruses, contain a region within their NS3 helicase proteins that is recognized by exactly the same KIR2DS2 receptor. We believe that by targeting this NS3 helicase region, we could make a new type of vaccine based upon natural killer cells, which can be used to help protect people from these infections."
Related Links:
University of Southampton

Other channels