Follicular Lymphoma Linked to Tumor Suppressor Gene Activity
By BiotechDaily International staff writers
Posted on 13 Jul 2017
Cancer researchers have shown that loss of activity of the SESTRIN1 tumor suppressor gene was linked to the development of incurable follicular lymphoma.
Follicular lymphoma (FL) is an incurable form of B-cell lymphoma. Knowing that deletions of chromosome 6q are common in this tumor type, investigators at Ecole Polytechnique Fédérale de Lausanne (Switzerland) examined the genes on this chromosome in samples taken from 200 follicular lymphoma patients.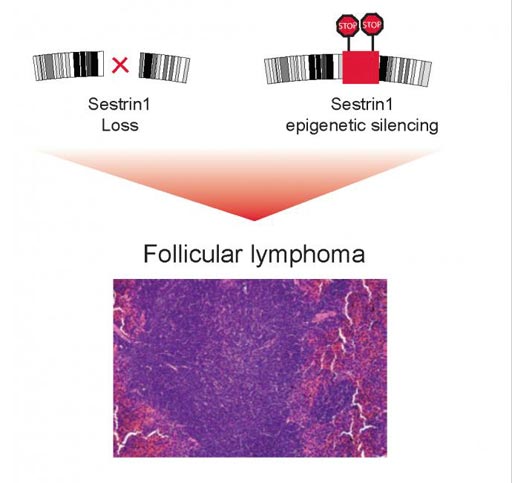 They reported in the June 28, 2017, online edition of the journal Science Translational Medicine that they had identified the gene SESTRIN1 as a likely tumor suppressor. The investigators then examined the mechanism by which the loss of SESTRIN1 contributed to tumorigenesis and identified a mechanistic connection between SESTRIN1 and EZH2 (Enhancer of zeste homolog 2), an epigenetic modifier that plays a role in multiple cancer types.
SESTRIN1 was found to be a direct target of the lymphoma-specific EZH2 gain-of-function mutation (EZH2Y641X). SESTRIN1 inactivation disrupted p53-mediated control of mammalian target of rapamycin complex 1 (mTORC1) and enabled mRNA translation under genotoxic stress. SESTRIN1 loss represented an alternative to other mutations that maintained mTORC1 activity under nutrient starvation.
The investigators also found that the antitumor effectiveness of drug-based EZH2 inhibition depended on SESTRIN1, indicating that mTORC1 control was a critical function of EZH2 in lymphoma.
Thus, the tumor suppressor gene SESTRIN1 was shown to contribute to the genetic and epigenetic control of mTORC1 in follicular lymphoma and influence responses to targeted therapies.
Related Links:
Ecole Polytechnique Fédérale de Lausanne

Other channels