CRISPR/Cas9 Technology Used to Help Screen for PD
By BiotechDaily International staff writers
Posted on 16 Jun 2017
A team of neurodegenerative disease researchers used CRISPR/Cas9 gene editing technology to introduce a luminescent reporter into the gene that encodes the pathogenic protein alpha-synuclein, an approach that they plan to develop into a screening tool for drugs to treat Parkinson's disease (PD).
The accumulation of misfolded alpha-synuclein (alpha-SYN) amyloid fibrils leads to the formation of insoluble aggregates that have been implicated in several neurodegenerative diseases, including Parkinson's disease, dementia with Lewy bodies, and Alzheimer's disease. It has been exceedingly difficult to define the structure of alpha-synuclein fibrils due to their insolubility and complexity. Multiplication of alpha-SYN encoding gene (SNCA) is correlated with early onset of the disease underlining the significance of its transcriptional regulation. Thus, monitoring endogenous transcription of SNCA is of utmost importance to understanding PD pathology.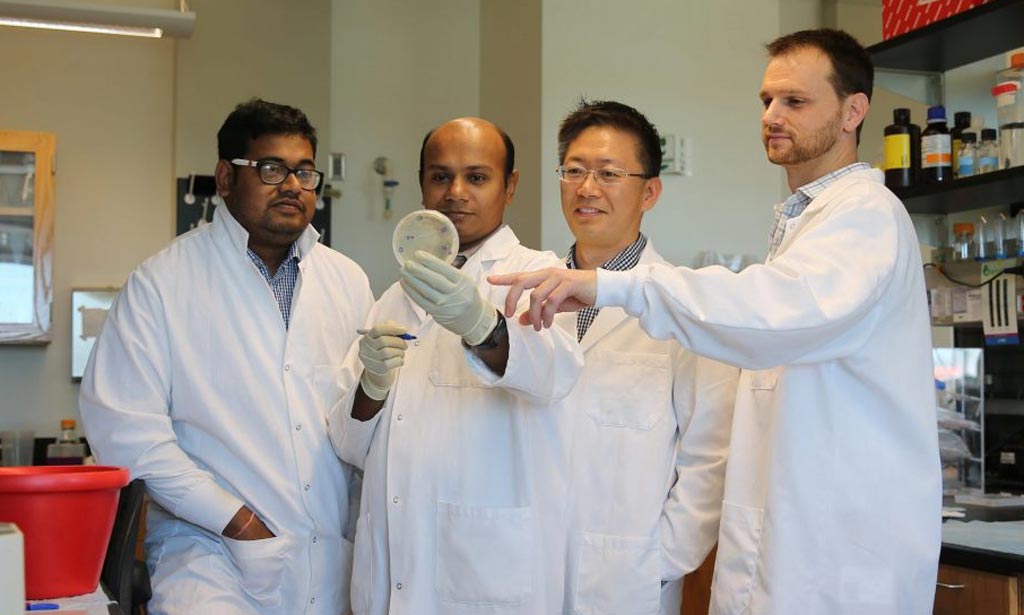 To study alpha-Syn investigators at the University of Central Florida (Orlando, FL, USA) developed a stable cell line expressing alpha-SYN endogenously tagged with NanoLuc luciferase reporter using CRISPR/Cas9-mediated genome editing.
CRISPR/Cas9 is regarded as the cutting edge of molecular biology technology. CRISPRs (clustered regularly interspaced short palindromic repeats) are segments of prokaryotic DNA containing short repetitions of base sequences. Each repetition is followed by short segments of "spacer DNA" from previous exposures to a bacterial virus or plasmid. CRISPRs are found in approximately 40% of sequenced bacteria genomes and 90% of sequenced archaea. CRISPRs are often associated with cas genes that code for proteins related to CRISPRs.
Since 2013, the CRISPR/Cas system has been used in research for gene editing (adding, disrupting, or changing the sequence of specific genes) and gene regulation. By delivering the Cas9 enzyme and appropriate guide RNAs into a cell, the organism's genome can be cut at any desired location. The conventional CRISPR/Cas9 system is composed of two parts: the Cas9 enzyme, which cleaves the DNA molecule and specific RNA guides (CRISPRs) that shepherd the Cas9 protein to the target gene on a DNA strand.
In this study, the use of CRISPR/Cas9 technology allowed efficient measurement of transcriptional activity of alpha-SYN in its native epigenetic landscape, which could not be achieved using exogenous transfection-based luciferase reporter assays. The NanoLuc luciferase reporter used in this study was 150-fold brighter and significantly smaller in size than firefly or Renilla luciferase, thus making it an ideal tag for even low expressing genes. Insertion of the luminescent reporter ensured that every time the cell synthesized the alpha-synuclein protein, the NanoLuc tag released a measurable burst of light.
The investigators reported in the April 4, 2017, online edition of the journal Scientific Reports that the NanoLuc activity faithfully monitored the transcriptional regulation of SNCA following treatment with different drugs known to regulate alpha-SYN expression; while exogenous promoter-reporter assays failed to reproduce the similar outcomes. Tagging SNCA endogenously with the NanoLuc using the CRISPR/Cas9 method allowed sensitive and real-time measurement of changes in transcriptional activity under various conditions of stimuli. This strategy should help to shed light on the transcriptional regulation of SNCA, and may serve as a strong tool for screening of drugs to limit the progression of PD.
"It is the most powerful and widely used gene-editing technique in use because it allows us to change the DNA in living cells," said senior author Dr. Yoon-Seong Kim, associate professor of biomedical sciences at the University of Central Florida. "The innovation of this method is that it enables us to monitor this gene in real-time without killing the cell. Without the CRISPR Cas-9 method, you would have to extract all the proteins from the cell to measure them, which kills the cell."
Related Links:
University of Central Florida

Other channels