Cytokine Drives Scar Formation in the Liver
By BiotechDaily International staff writers
Posted on 12 Jun 2017
Researchers have identified a cytokine that contributes strongly to the processes involved in the formation of scars in the liver, such as those that form as a consequence of hepatitis C infection.
Genetic variation in the IFNL3–IFNL4 (interferon-gamma3–interferon-gamma4) region has been shown to be associated with liver inflammation and fibrosis. Whether the IFN-gamma3 or IFN-gamma4 protein was the principle driver of this association was not known.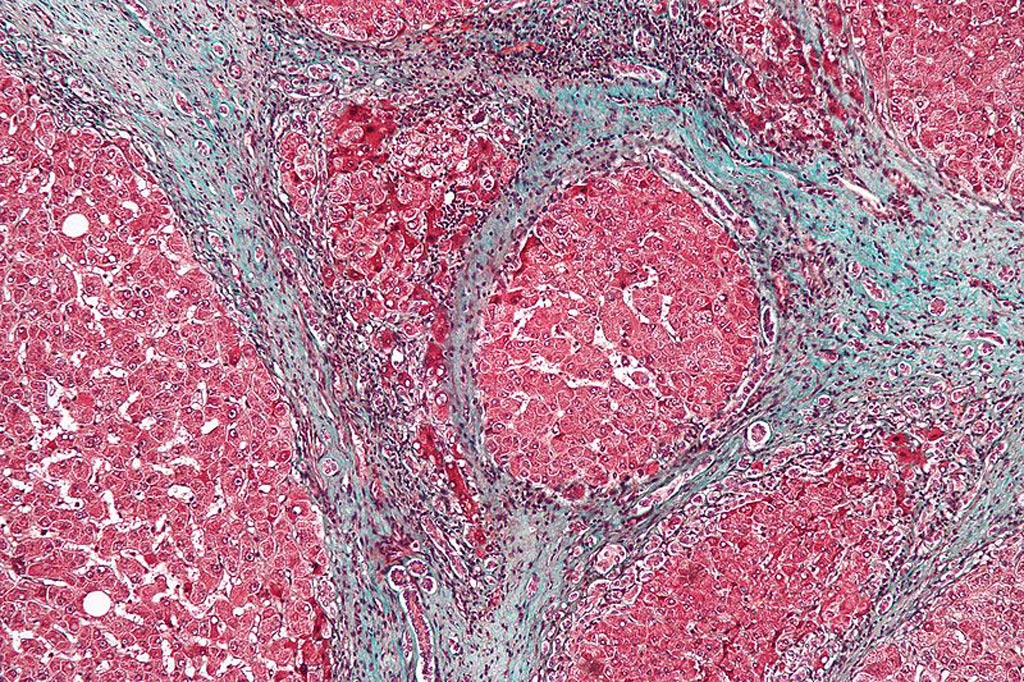 Investigators at the Westmead Institute for Medical Research (Sydney, Australia) had found previously that the common genetic variations associated with liver fibrosis were located on chromosome 19 between the IFNL3 and IFNL4 genes. In the current study, they analyzed liver samples from 2000 patients with hepatitis C, using state-of-the art genetic and functional analysis, to determine the specific IFNL protein responsible for liver fibrosis.
They reported in the April 10, 2017, online edition of the journal Nature Genetics that inflammation of the liver, fibrosis stage, fibrosis progression rate, hepatic infiltration of immune cells, IFN-gamma3 expression, and serum sCD163 levels (a marker of activated macrophages) were greater in individuals with the IFNL3–IFNL4 risk haplotype that produced IFN-gamma3 but did not produce IFN-gamma4. Therefore, IFN-gamma3 rather than IFN-gamma4 likely mediated IFNL3–IFNL4 haplotype–dependent liver inflammation and fibrosis.
"Liver disease is now the fifth most common cause of death in Australia, affecting six million Australians, and with significant financial cost to the health system," said senior author Dr. Jacob George, professor of hepatic medicine at the Westmead Institute for Medical Research. "We have designed a diagnostic tool based on our discoveries, which is freely available for all doctors to use, to aid in predicting liver fibrosis risk. This test will help to determine whether an individual is at high risk of developing liver fibrosis, or whether a patient's liver disease will progress rapidly or slowly, based on their genetic makeup. This important discovery will play a vital role in reducing the burden of liver disease into the future."
Related Links:
Westmead Institute for Medical Research

Other channels