Stem Cell and 3D Printing Generate Viable Tissue
By BiotechDaily International staff writers
Posted on 11 May 2017
A team of Swedish cell biologists combined three-dimensional (3D) bio-printing with advanced stem cell technology to create viable cultures of cartilage tissue that had cellular and mechanical properties similar to patients' natural cartilage.
Cartilage lesions can progress into secondary osteoarthritis and cause severe clinical problems in numerous patients. To fill and cure such lesions, investigators at the University of Gothenburg developed a novel class of stem cells that could survive being injected by a three-dimensional printing method and then mature into functional cartilage tissue.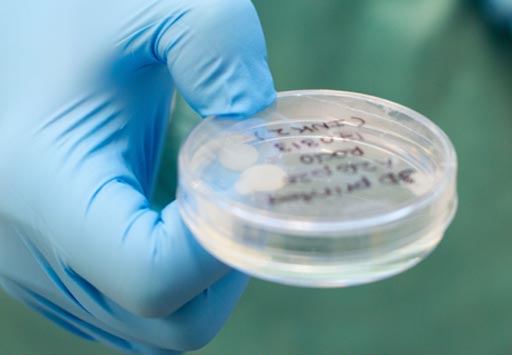 The investigators began with cartilage cells taken from patients undergoing knee surgery. These cells were then manipulated in a laboratory and transformed into induced pluripotent stem cells. The stem cells were expanded and encapsulated in a solution of nanofibrillated cellulose and printed into a structure using a three-dimensional (3D) bio-printer. Following printing, the stem cells were treated with growth factors that caused them to differentiate into cartilage tissue.
Much of the research effort involved finding a procedure to enable the cells to survive printing and multiply and a protocol that induced the cells to differentiate to form cartilage.
Results published in the April 6, 2017, online edition of the journal Scientific Reports revealed that pluripotency was initially maintained, and after five weeks, hyaline-like cartilaginous tissue with collagen type II expression and lacking tumorigenic Oct4 expression was observed in the three-dimensional (3D)-bio-printed constructs. Moreover, a marked increase in cell number within the cartilaginous tissue was detected by 2-photon fluorescence microscopy, indicating the importance of high cell densities in the pursuit of achieving good survival after printing.
"In nature, the differentiation of stem cells into cartilage is a simple process, but it is much more complicated to accomplish in a test tube. We are the first to succeed with it, and we did so without any animal testing whatsoever," said senior author Dr. Stina Simonsson, associate professor of cell biology at the University of Gothenburg. "We investigated various methods and combined different growth factors. Each individual stem cell is encased in nanocellulose, which allows it to survive the process of being printed into a three-dimensional (3D) structure. We also harvested media from other cells that contain the signals that stem cells use to communicate with each other - so called conditioned medium. In layman's terms, our theory is that we managed to trick the cells into thinking that they are not alone."
Other channels