Modified Stem Cells Used to Correct Arthritis Inflammation
By BiotechDaily International staff writers
Posted on 10 May 2017
Researchers have used CRISPR/Cas9 genome editing technology to create mouse stem cells able to infiltrate the joints, form cartilage tissue, and correct the autoimmune defects that are responsible for arthritis.
Chronic inflammatory diseases such as arthritis are characterized by inappropriate responses to pro-inflammatory cytokines such as interleukin-1 (IL-1) and tumor necrosis factor alpha (TNF-alpha). Anti-cytokine drugs are often effective at diminishing this inflammatory response but have significant side effects and are used at high, constant doses that do not reflect the dynamic nature of disease activity.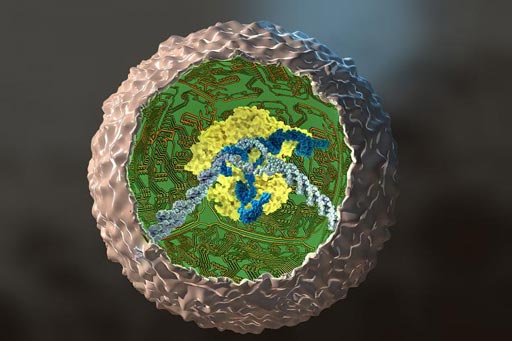 Investigators at Washington University School of Medicine, Duke University, and Cytex Therapeutics Inc. chose to attack the chronic inflammation of arthritis in a mouse model system with a gene therapy approach based on CRISPR/Cas9.
CRISPRs (clustered regularly interspaced short palindromic repeats) are segments of prokaryotic DNA containing short repetitions of base sequences. Each repetition is followed by short segments of "spacer DNA" from previous exposures to a bacterial virus or plasmid. CRISPRs are found in approximately 40% of sequenced bacteria genomes and 90% of sequenced archaea. CRISPRs are often associated with cas genes that code for proteins related to CRISPRs. Since 2013, the CRISPR/Cas system has been used in research for gene editing (adding, disrupting, or changing the sequence of specific genes) and gene regulation. By delivering the Cas9 enzyme and appropriate guide RNAs into a cell, the organism's genome can be cut at any desired location. The conventional CRISPR/Cas9 system is composed of two parts: the Cas9 enzyme, which cleaves the DNA molecule and specific RNA guides (CRISPRs) that shepherd the Cas9 protein to the target gene on a DNA strand.
The investigators reported in the April 27, 2017, online edition of the journal Stem Cell Reports that they induced mousetail skin cells into becoming pluripotent stem cells. They then used the CRISPR/Cas9 technique to replace the gene for a critical enzyme mediator of inflammation with a TNF-alpha inhibitor. These modified stem cells reduced IL-1- or TNF-alpha-mediated inflammation in an autoregulated, feedback-controlled manner.
The programmed stem cells were then used to engineer articular cartilage tissue to establish the efficacy of self-regulated therapy toward protection of tissues against cytokine-induced degeneration. This artificial cartilage tissue replaced arthritic cartilage and simultaneously protected joints and other tissues from damage that occurred with chronic inflammation.
"We want to use our gene-editing technology as a way to deliver targeted therapy in response to localized inflammation in a joint, as opposed to current drug therapies that can interfere with the inflammatory response through the entire body," said senior author Dr. Farshid Guilak, professor of developmental biology and biomedical engineering at Washington University School of Medicine. "If this strategy proves to be successful, the engineered cells only would block inflammation when inflammatory signals are released, such as during an arthritic flare in that joint."
Other channels