New Chemical Cocktail Enables Study of Totipotent Stem Cells
By BiotechDaily International staff writers
Posted on 19 Apr 2017
A team of developmental molecular biologists has formulated a chemical cocktail that enables the derivation of stem cells with unique functional and molecular features from mice and humans including the ability to maintain a state of totipotency that allows them to develop into extra-embryonic tissues such as placenta.
Under normal circumstances pluripotent stem cells such as those derived from embryonic tissue are unable to develop into tissues that support the developing embryo. However, in the current report, which was published in the April 6, 2017, issue of the journal Cell, investigators at the Salk Institute for Biological Research described the discovery of a chemical cocktail - a simple combination of four chemicals and a growth factor - that enabled cultured mouse and human stem cells to generate both embryonic and extra-embryonic tissues.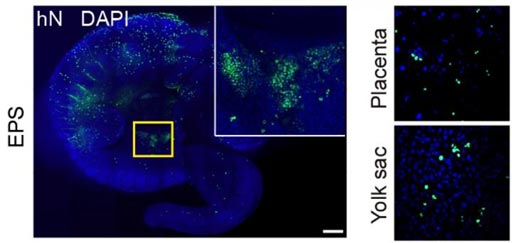 These novel stem cells, which were capable of chimerizing both embryonic and extraembryonic tissues, were designated as extended pluripotent stem (EPS) cells. Notably, a single mouse EPS cell showed widespread chimeric contribution to both embryonic and extraembryonic lineages in vivo and permitted generating single-EPS-cell-derived mice by tetraploid complementation. Furthermore, human EPS cells exhibited interspecies chimeric competency in mouse conceptuses. The conceptus includes all structures that develop from the zygote, both embryonic and extraembryonic. It includes the embryo as well as the embryonic part of the placenta and its associated membranes - amnion, chorion (gestational sac), and yolk sac.
"During embryonic development, both the fertilized egg and its initial cells are considered totipotent, as they can give rise to all embryonic and extra-embryonic lineages. However, the capture of stem cells with such developmental potential in vitro has been a major challenge in stem cell biology," said contributing author Dr. Juan Carlos Izpisua Bemonte, a professor in the gene expression laboratories at the Salk Institute for Biological Studies. "This is the first study reporting the derivation of a stable stem cell type that shows totipotent-like bi-developmental potential towards both embryonic and extra-embryonic lineages. We believe that the derivation of a stable stem cell line with totipotent-like features will have a broad and resounding impact on the stem cell field."
Other channels