Anticancer Compounds Found in Medicinal Plant
By BiotechDaily International staff writers
Posted on 11 Oct 2017
Compounds isolated from the medicinal plant Ambrosia arborescens or derived from them synthetically were found to have potent toxic effect on cancer stem cells in three different breast cancer cell lines.
Investigators at Lund University (Sweden) examined the anti-cancer activity of sesquiterpene lactones (SLs) isolated from A. arborescens and of synthetic derivatives in breast cancer cell lines, with a specific focus on activity against cancer stem cells (CSCs). Sesquiterpene lactones are a class of chemical compounds comprising three isoprene units and containing a lactone ring. They are found in many plants and can cause allergic reactions and toxicity if overdosed.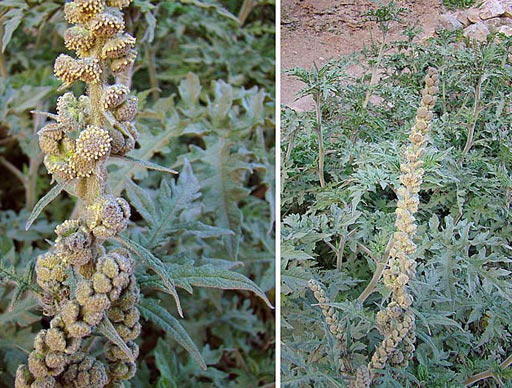 For the current study, the breast cancer cell lines MCF-7, JIMT-1, and HCC1937 and the normal-like breast epithelial cell line MCF-10A were treated with the SLs damsin and coronopilin, isolated from A. arborescens, and with ambrosin and dindol-01, synthesized using damsin.
Doses of the compounds in the micromolar range were used for investigating effects on cell proliferation, cell cycle phase distribution, cell death, micronuclei formation, and cell migration. Western blot analysis was used to investigate proteins involved in cell cycle regulation as well as in the NF-kappaB pathway, since SLs have been shown to inhibit this transcription factor. Specific CSC effects were investigated using three different CSC assays.
Results published in the September 1, 2017, online edition of the journal PLOS One revealed that that all compounds inhibited tumor necrosis factor-alpha (TNF-alpha)-induced translocation of NF-kappaB to the cell nucleus. Dose response assays showed that all compounds were cytotoxic to the breast cancer cell lines (MCF-7, JIMT-1, and HCC1937) as well as to the MCF-10A normal-like breast epithelial cell line; however, the latter cell line was least affected. Damsin and ambrosin treatment increased the number of micronuclei, and another sign of DNA damage was the increased level of p53. The most toxic compound was ambrosin, which was also found to reduce the CSC subpopulation of the JIMT-1 cell line.
"Both the natural and the synthetic substances inhibit the growth and spread of cancer stem cells in breast cancer cell lines. This is the first time that it has been successfully proven by research", said senior author Dr. Stina Oredsson, professor of biology at Lund University. "Different cancer cells have different abilities to survive chemotherapy. Cancer stem cells can be considered the most dangerous type of cancer cells, as they appear to have an inherent resistance to the chemotherapeutic drugs used today. Our results can contribute to the development of new drugs against cancer stem cells but, unfortunately, it takes a long time to get from basic research to usable drugs."
Related Links:
Lund University

Latest Drug Discovery News
Other channels