Drug Delivery Method Used with Hollow Microstructures
By BiotechDaily International staff writers
Posted on 27 Sep 2017
A new method for producing microstructures was used to create hollow injectable microparticles that could be filled with liquid containing a therapeutic agent and then degraded over a programmable time period.
Investigators at the Massachusetts Institute of Technology (Cambridge, USA) recently described a microfabrication method, termed StampEd Assembly of polymer Layers (SEAL), and used the method to create injectable pulsatile drug-delivery microparticles, pH sensors, and three-dimensional microfluidic devices that they could not produce using traditional three-dimensional printing. SEAL allowed them to generate microstructures with complex geometry at high resolution, produce fully enclosed internal cavities containing a solid or liquid, and use potentially any thermoplastic material without processing additives.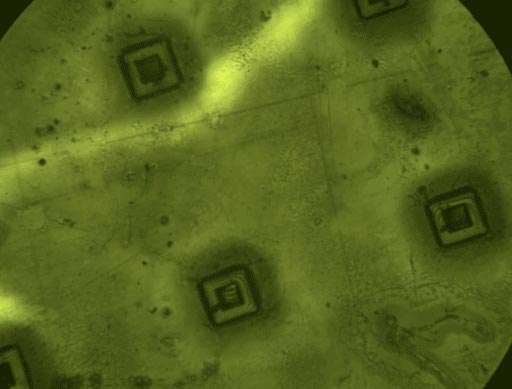 For the current study, the investigators prepared microstructures in the shape of cups from PLGA (poly(lactic-co-glycolic acid)). By adjusting the degradation rate of the microparticle material, the cargo in the internal reservoir could be released at a desired time, ranging from a few days to two months.
PLGA has been successful as a biodegradable polymer because it undergoes hydrolysis in the body to produce the original monomers, lactic acid and glycolic acid. These two monomers under normal physiological conditions are by-products of various metabolic pathways in the body. Since the body effectively deals with the two monomers, there is minimal systemic toxicity associated with using PLGA for drug delivery or biomaterial applications.
The investigators reported in the September 15, 2017, issue of the journal Science that in mice, the particles released their contents in sharp bursts, without prior leakage, at nine, 20, and 41 days after injection.
"We are very excited about this work because, for the first time, we can create a library of tiny, encased vaccine particles, each programmed to release at a precise, predictable time, so that people could potentially receive a single injection that, in effect, would have multiple boosters already built into it. This could have a significant impact on patients everywhere, especially in the developing world where patient compliance is particularly poor," said senior author Dr. Robert Langer, professor of chemical engineering at the Massachusetts Institute of Technology.
Related Links:
Massachusetts Institute of Technology

Latest Drug Discovery News
Other channels