Drugs Identified May Stimulate Axon Regeneration
By BiotechDaily International staff writers
Posted on 21 Mar 2017
A team of neurological science researchers has identified a class of small molecular growth promotors that may prove to be the basis for drugs designed to correct loss of axons following brain or nervous system injury or other disorders and diseases, including multiple sclerosis and neurodegenerative conditions.
Damaged central nervous system (CNS) neurons have a poor ability to spontaneously regenerate, causing persistent functional deficits after injury. Therapies that stimulate axon growth are needed to repair CNS damage.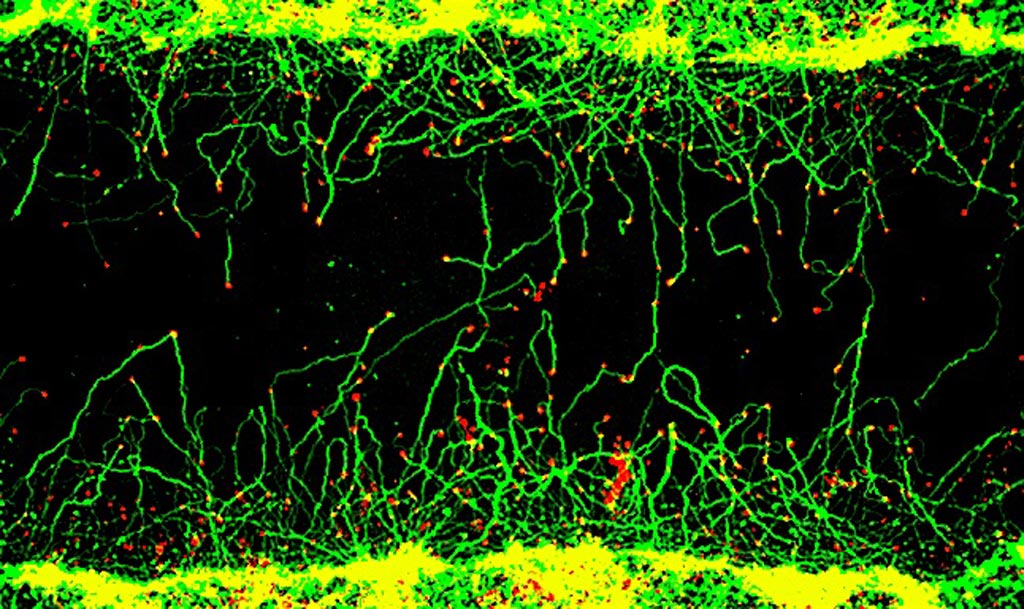 Investigators at McGill University studied the potential of 14-4-3 proteins in this regard. These proteins are members of a family of conserved regulatory molecules that are expressed in all eukaryotic cells. 14-3-3 proteins have the ability to bind a multitude of functionally diverse signaling proteins, including kinases, phosphatases, and transmembrane receptors. The name 14-3-3 refers to the particular elution and migration pattern of these proteins on DEAE-cellulose chromatography and starch-gel electrophoresis. More than 200 signaling proteins have been reported as 14-3-3 ligands.
The investigators reported in the March 8, 2017, online edition of the journal Neuron that a small-molecule stabilizer of 14-3-3 protein-protein interactions called fusicoccin-A (FC-A), stimulated axon growth in vitro and regeneration in vivo. Fusicoccin is an organic compound produced by the fungus Fusicoccum amygdali, which is a parasite of mainly almond and peach trees. It stimulates a quick acidification of the plant cell wall; this causes the stomata to irreversibly open, which brings about the death of the plant.
In the current study, the investigators found that FC-A stabilized a complex between 14-3-3 and the stress response regulator protein GCN1, inducing GCN1 turnover and axonal outgrowth.
"We have identified a novel strategy to promote axon regeneration with a family of small molecules that may be excellent candidates for future drug development," said senior author Dr. Alyson Fournier, professor of neurology and neurosurgery at McGill University. "This is an exciting advance because the field has struggled to find treatments and identify targets for drugs that stimulate axon repair."
Latest Drug Discovery News
Other channels